Commissionology Review – Is It For You?
Hi everyone, Alan here and today I'm going to be reviewing a product called Commissionology.
Now according to the guy that came up with Commissionology  Michael Cheney, it is a copy and paste way to promote a variety of affiliate products and reportedly some people have raked in 'one hundred eighty dollars sixty cents' in just nine hours.
Now these results reportedly were from an actual student of his that followed along with his simple system.
So, in a nutshell, what is Commissionology?
Well it is a totally done-for-you solution where you are able to have all the emails and a multitude of proven products you can use from a very well-known and respected internet marketer in Michael Cheney and you get to use them without breaching copyright.  You can use these in your email marketing promotions on your Facebook pages, on your blog sites, anywhere you like really, in order to get ahead and to monetize these promotions so you can instantly make money as an affiliate marketer and to be honest although it would be preferable, you don't even need a website.
Now he is also going to give you the opportunity to get approved for a bunch of products which can normally be a bit of a "pain in the butt" to do especially if you're just starting out as an affiliate marketer because a lot of times the vendors will not approve you to promote their products, simply because you don't have sales on the board.
I can tell you from experience that in the beginning, especially starting out as an affiliate marketer, it can be really hard to find offers that are going to sell well and then there's the heartbreaking ones, the ones that aren't going to sell well at all.
With this package all that risk is taken away as Michael uses all his experience and picks out top selling products for you and then all you have to do is take the email swipes he gives you and you simply use those in your marketing, everything is done for you straight out of the box and that is why some marketers have achieved such great results and made way more, than their first dollar online.
Not only will your commissions pour in but your list is growing and we all know the saying, "the money is in the list" right?
One of the hard things about doing all the work yourself is writing out all the different emails and using Michael as the example of a super achieving marketer, he sends out three to five emails a day, yes, he's pretty aggressive with his email marketing but it pays off for him as he makes anywhere from twenty to thirty thousand dollars per month just by doing these simple multiple promos, really sticking at it and promoting just that one product.
Okay, Michael does use a virtual assistant and he says that the VA  does all his stuff in the main i.e. he does his copywriting and he pays him about eight hundred dollars per month for that service so you could pay someone to do this for you and pay upwards of eight hundred to a thousand dollars a month or have it all done for right here right now when you pick up this complete package, Commissionology the product we are reviewing today.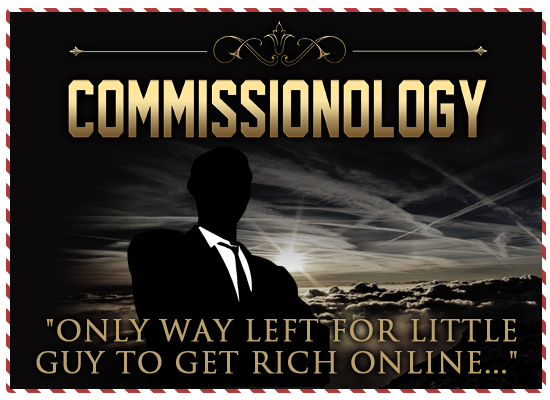 Now as I stated earlier, one of the biggest barriers for people getting started is if you don't have any or many sales on the board you are very likely going to get denied when requesting affiliate links.   With Commissionology, Michael is going to make it so that you're guaranteed to get approved for at the very minimum his products.
You see some of the products are his own, whilst others are friends of Michael's and all are high performing marketers like, John Thornhill, Jamie Lewis, Daniel Lewis, Daniel Sumner Amara, Melinda Martin, Dave Nicholson and this list is just going to keep on growing up and up as more products are added each and every month.
All your products are proven to convert, you don't have to spend a fortune testing to find the top selling products, you're going to get proven converting swipe files and email marketing that you'll be able to use.
Now there is one thing I would recommend that you do and this is going to make you stand out from the rest, this is where I think the true value is inside of this product, that is you can actually use these sort of like PLR, where most people are going to be using them for let's say email marketing or  Facebook marketing, why not put these up on a blog and get them to rank in Google?  I get a ton of free traffic every single month by putting my promos up on a website so if you take the extra step, you put them onto your website, you're going to be able to get even more out of this product, and don't forget you're going to get every new promo that Michael does on a monthly basis.
If you get on Michael's email list and he sends out an email, you can immediately take that email and use it for yourself, publish it on your website, send out a message to your email list if you have one, or just put a message up on your Facebook page and use it.
Of course, you need to change it so it sounds like it is coming from you and not Michael, yes, this is the lazy way of doing affiliate marketing, so if you don't have much time or marketing experience or maybe you just really want a simple copy and paste way of doing your marketing, Commissionology would be great for you.
In this package Michael also includes training where he gives advice on how to get traffic, list building and as I mentioned earlier having an email list is going to be one of the best ways to make money online.
Now Michael is going to relay to you from many, many years' experience, he is going to teach you how to go out there and build an email list and how to get your customers to buy from you over and over again.  This in itself is worth the crazy low purchase here.
Okay, so who would most benefit from the Commissionology package? Well to start with I would have to say, anyone who wants to make some serious money online, also those that are time poor and just don't have the time right now to develop their own products.
Would I recommend and or use this product? Answer is yes, yes, yes, I purchased it and I use it as you can see I promote it here on this blog site.
Pros:  Commissionology really is copy and paste simple (I really don't like using that term but I can't think of a better way to describe it) because you get to have all of Michael's done for you campaigns and if you're thinking to yourself, is this going to get saturated?  The answer is no, because most people unfortunately don't do anything with the stuff they buy, they get it sent to their computer and file it away never to be seen again.  Please don't be that person, this will work for you if you use it.
Cons: Well what I'm no all that keen on is a monthly membership fee, although I can also understand why because your twenty-seven dollars a month members fee gives you access a multitude of new products that Michael is going to keep on adding, more promotions every single month so every time that he does a new promotion he will add them inside the members area. So, I guess there is also a positive thrown in there.
Now just to be sure I make all things clear about the reviews on this site: I am an affiliate for every product I review. The vendors for some of these products give me a sample without charge in order for me to review them. This is a standard practice however all my reviews are done honestly, as I see them. I make no promises to the vendor prior to writing my review. Should you click on a link on this site that takes you to a paid product, this link will be an affiliate link and if you purchase I will be paid a percentage of the sale/s again standard practice, nothing new here just being upfront.